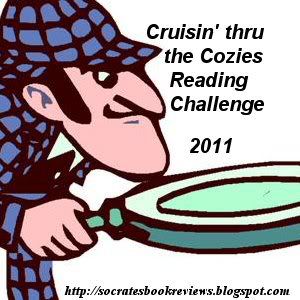 Socrate's Book Reviews is hosting a
Crusin' thru the Cozies Reading Challenge in 2011
. The challenge runs January - December.
Even though she will be hosting a cozy challenge for the full year, I still plan to host the Cozy Mystery Challenge April - September like I have in previous years. In fact, I think I'll even sign up for Socrate's challenge myself!
If you cozy fans are interested in participating in 2 challenges next year (because of course I hope and pray you'll still participate in mine) please visit her
blog
for more info on the
challenge
.
psst...I'll even let you count cozies that you read for my challenge for her's too...isn't that nice of me?